Orbit 2.0 GPM Brushed Nickel Rain Shower
$54.95 msrp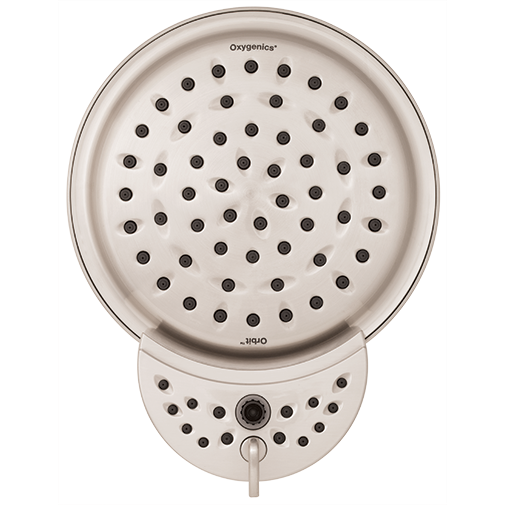 see more in this product line
Product Details
Patented dual function orbital pivots up to 45° delivering spray coverage exactly where you want it – no more standing in the cold!
54 pressurized spray nozzles to supply more power than typical rain showers.
A simple click of the Orbital arm changes the spray from invigorating to a body-enveloping rain monsoon.
Features two unique spray settings that can be used to customize your shower – stimulating or relaxing, it's your choice.
High quality metal base and non-stick internal materials ensure long-lasting performance.
Plumber's tape included for an easy installation process.
Limited lifetime guarantee against clogging or performance failures of any kind.
No tools required for installation in minutes.
Water Force and Pressure Data
Most Oxygenics products are WaterSense-certified, meaning you don't have to worry about water regulations. The PSI (pounds per square inch) is how water pressure is measured while the GPM (gallons per minute) measures the flow rate of the shower head.
So, the lower the GPM and the higher the PSI, the better. Our shower heads are highly efficient, so regardless of the PSI—our showers feel like there's more water coming through when in reality, less water is being used. This results in more pressure, less water, and more savings.
This product performs at 2.0 GPM at 80 PSI – resulting in a supercharged shower pressure with minimum flow rate all while helping you save money on your utility bills.
Installation and Resources