Drench Combo Shower - 76388
$54.95 msrp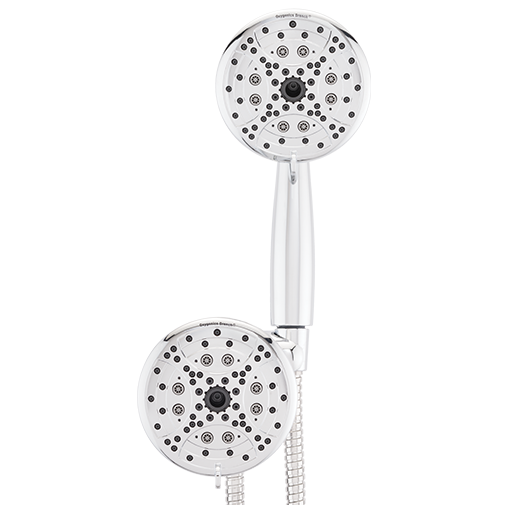 see more in this product line
Product Details
Oxygenics settings includes the Oxygenics engine, an efficient and powerful water delivery system
Use shower heads individually or simultaneously with the included 3-way diverter
72″ stainless steel hose extends reach on your body and around the shower
Saves up to $125+ per year on water and energy bills thanks to water-saving technology
Metal base boosts durability, ensuring the shower head will last for years to come
Easy spray selector allows you to stay with your favorite or switch with a flick!
Nonstick internal materials reduce hard water buildup
Installs in minutes without tools – all you need is a set of hands!
What's Included
Fixed shower
Handheld shower
72″ stainless steel hose
3-way diverter
Plumber's tape
Water Force and Pressure Data
Most Oxygenics products are WaterSense-certified, meaning you don't have to worry about water regulations. PSI (pounds per square inch) measures water pressure while GPM (gallons per minute) measures the flow rate of the washer.
So, the lower the GPM and the higher the PSI, the better. Our shower heads are designed to be highly efficient. Regardless of PSI-our shower heads feel as if there's more water coming through, when in reality less water is being used. This results in more pressure, less water use, and more savings.
This product performs at 1.8 GPM at 80 PSI – resulting in supercharged pressure with minimum flow rate, which translates to more savings on your utility bills and more money in your pocket!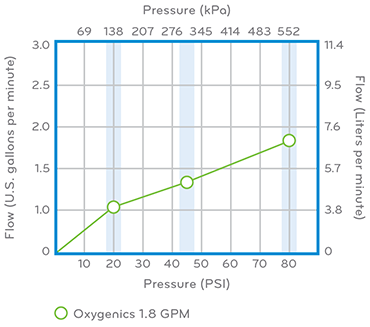 Installation and Resources